WE handlE all your ASSOCIATIONS needs
When it comes to HOA'S , no other company understands their needs better than our firm.
Finding the right Management Company to work and advise your Board is the key to success!
Association Management Company ( AMS-FLA) is one of South East Florida's leading Association Property Mangement Companies. Board of Director's , Property Owners, and Investors rely on us to provide honest, accurate and prompt information. As well, our clients expect and recieve courteous and professional service. We deliver on all levels.
our experienced management staff and support team are here to serve you.
Our reputation and years of experience lets you know you are in capable hands.
Working closely with the Directors, Managing Budgets and Vendors, as well listening to property owners, we are in ultimate connection with your property needs . Whether you are a HOA, Condo or Self Managed Association looking hire a property manager,
When it comes to self- management, we know the difficulties you face, let us help your Board.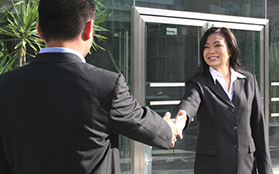 PROVIDING EXCEPTIONAL SERVICE IS OUR GOAL